Thursday, November 9,
2000,
Chandigarh, India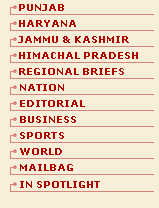 C A L E N D A R
Thursday, November 9, 2000
Vikrama Samvat
2057
Kartika
25
Shaka Samvat
1922
Kartika
18
Hijri
1421
Shaban
12

Kartika Shukla Paksha Trayodashi up to 5.55 a.m.
The thirteenth lunar day of the bright half of Kartika.
Revati Nakshatra up to 5.50 a.m.
Pradosh brata
Ending of Panchaka at 5.50 a.m.
Vaikuntha Chaturdashi brata (Kartika bright Chaturdashi at sunrise in only admissible for observing its fast)
Virvairagi fair Nakodar (Punjab)
Sarvartha — siddhi yoga full day.