Saturday, November 11, 2000,
Chandigarh, India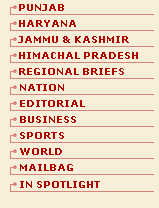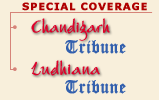 S P O T L I G H T

Suspect allowed to go abroad
MUMBAI, Nov 10 (PTI) — A designated TADA court has allowed Zebunisa Anwar Kazi, a suspect in the serial blast case, to visit Colombo in Sri Lanka for two weeks from today to attend the marriage reception of her daughter. Zebunisa, who was granted bail in 1993, is the first woman suspect to get permission to go abroad. Among the other women facing the trial are three family members of absconding accused Tiger Menon and co-accused Mubina Bhiwandiwala.
Quake in Shillong
SHILLONG, Nov 10 (PTI) — An earthquake of mild intensity measuring 3.6 on the Richter scale shook Shillong and its surrounding areas last night, the Seismological Centre said here today. The epicentre of the tremor, which occurred at 11.02 p.m. was located at 25.7°N latitude and 91.4°E longitude, it said. There was no report of any loss of life and damage to property.