IN PASSING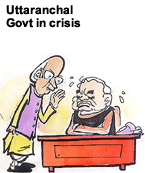 We will have to create three more hill states to satisfy the dissidents!

'Look East' approach to be revived
SINGAPORE, Nov 11 — Re-engaging Southeast Asia is the stand of India's foreign policy and India's future is based more on this region than any other part of the globe. That is the underlying message of President K.R. Narayanan's official visit to this high-tech city state. It is apparent India sees for itself a role to play in the region.
Sulking MLAs join ministry
DEHRA DUN, Nov 11 — The Chief Minister of Uttaranchal inducted all the three MLAs of the interim assembly who did not turn up for taking the oath on Friday into his Council of Ministers today. They were administered oath of secrecy by the Governor, Mr Surjit Singh Barnala. The strength of ministry has now gone up to 13, including the CM.
IAF reopens doors to retired pilots
Raises service age by two years
CHANDIGARH, Nov 11 — Almost a year after the IAF decided not to extend the tenures of re-employed officers in its flying branch, it has re-opened its doors to superannuated officers opting to continue serving with the force.
MC staff pocket rites money
1500 die unclaimed in Haryana per year
HISAR, Nov 11 — When John Donne wrote Death Be Not Proud, he would never have imagined the title of his famous Ode to Death, would, one day aptly describe the fate of the1500 unfortunate persons who die in Haryana every year away from their homes and have their bodies labelled as unclaimed.
Bush camp asks Gore to concede defeat
November 11, 2000
Bush has razor-thin lead
November 10, 2000
US presidential battle hangs in balance
November 9, 2000
Recount ordered
November 8, 2000
JMM snaps ties with NDA
November 7, 2000
4 soldiers killed in suicide attack
November 6, 2000
29 killed, 46 hurt in valley
November 5, 2000
J & K minister's brother
killed in blast
November 4, 2000
Cabinet clears DTH service
November 3, 2000
Azhar, Ajay Sharma may be prosecuted
November 2, 2000