Sunday, November 12, 2000,
Chandigarh, India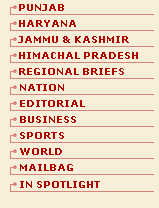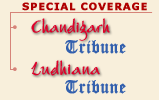 S P O T L I G H T
100 die in fighting
KIGALI, Nov 11 (AFP) — More than 110 soldiers have been killed in fighting this week for control of the southeastern Democratic Republic of Congo (DRC) town of Pepa, rebel chief Sylvain Buki told AFP today. "Our commanders on the ground had counted by this morning more than 100 dead on the enemy side," Buki, chief of staff for the Congolese Rally for Democracy (RCD), said on the telephone.
9 killed in Bihar train accidents
MUNGER (Bihar), Nov 11 (PTI) — Nine persons, including five women, were killed in two train accidents in Bihar's Munger and Lakhisarai districts today, the Government Railway Police (GRP) said. GRP sources said six persons, including five women were killed when they were hit by a train inspecting the track at Barahiya station in Lakhisarai district on Danapur-Kiul section of the Eastern Railway. While four women died on the spot, two succumbed to injuries in the hospital. In another accident, three persons were run over by the Howrah-Jamalpur Express while crossing the track near Bariarpur station on Sahebgani-Kiul section of the Eastern Railway. Angry locals damaged tracks at Bariarpur disrupting rail traffic for a few hours.
Sectarian clashes
ISLAMABAD, Nov 11 (PTI) — At least five persons were killed and four others injured in clashes between Muslims and minority Ahmedi sect in the Pakistani city of Sargodha in the Punjab province, the police said today. The clash took place late last night when a local leader of an Islamic group, Tehreek-e-Khatam-e-Nubuwat, Athar Shah, was allegedly attacked by members of the Ahmedi sect after he staged a rally in front of an Ahmedi mosque.
Rushdie's home
LONDON, Nov 11 (PTI) — India-born author Salman Rushdie plans to convert his ancestral home in Solan in Himachal Pradesh into a retreat for authors and poets, media reports said here today. Built in 1927 in the British architectural style, the ancestral home is set in an acre and a half, adjacent to a wildlife sanctuary and overlooks forests.
Dharna at Rajghat
NEW DELHI, Nov 11 (PTI) — Over 2,000 Narmada Dam oustees led by the Narmada Bachao Andolan (NBA) leader Medha Patkar began a dharna at Rajghat today to protest against the recent Supreme Court judgement allowing work to commence on the dam. "We are here to appeal to the President, the Prime Minister as well as the civil society on the issue of life and death for Narmada," Ms Patkar told reporters adding that a review petition would also be filed simultaneously.