Tuesday, November 14, 2000,
Chandigarh, India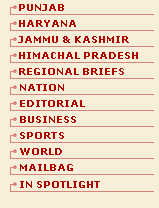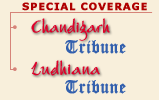 S P O T L I G H T
Bank employees' stir tomorrow
BANGALORE, Nov 13 (UNI) — More than 10 lakh bank employees belonging to nine major bank employees unions will observe a strike on November 15 to protest against, among other things, the Union Government's move to privatise the notionalised banks. Addressing a press conference, All-India Bank Officers Confederation (AIBOC) president Shantha Raju said the strike would be held under the banner of the United Forum of Bank Unions. The strike was in protest against the Union Government's move to reduce its equity in the banks to 33 per cent, introduction of Voluntary Retirement Scheme (VRS) and reduction of retirement age from 60 to 58 years.
Judge sworn in
PATNA, Nov 13 (PTI) — Mr Justice Vinod Kumar Gupta, tipped to become the first Chief Justice of the Jharkhand High Court, took oath as a judge of the Patna High Court today.