Wednesday, November 15, 2000,
Chandigarh, India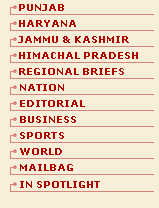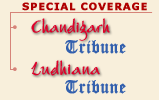 S P O T L I G H T
Dalit youth castrated
Tribune News Service
JALANDHAR, Nov 14 — A Dalit youth, a father of six, hailing from Lohgarh' village was allegedly drugged and castrated by his employer who heads a "dera" of eunuchs. Charanjit Singh in his late thirties has in a complaint to the police, said that since he had a dispute with Prakash Mahant he was picked up by his men, drugged and kept in illegal confinement. He said he was beaten up and his hair cut forcibly when he tried to escape last week. He said he could not approach the police earlier as he was afraid of the mahant. Mr Pushkar Sandal, DSP, Mehtatpur, said a case under Sections 367/368/362/259-A and 120-B of the IPC had been registered.
New states get IT commissioners
NEW DELHI, Nov 14 (UNI) — Three posts of Chief Commissioners of Income Tax (CCIT) have been created keeping in view the formation of the new states of Chhattisgarh, Uttaranchal and Jharkhand, with headquarters at Raipur, Meerut and Ranchi, respectively. The new CCITs are Mr G.P Nanda for Raipur, Mr D.K. Sharma for Meerut and Mr L.K. Koolwal for Ranchi, official sources said. In addition the systems administration and the vigilance organisation have been strengthened.
Neeta Naik dead
MUMBAI, Nov 14 (PTI) — Neeta Naik, Shiv Sena corporator and wife of underworld don Ashwin Naik, who was shot at yesterday by some unidentified persons, succumbed to her injuries in a city hospital today. Joint Police Commissioner (Crime) D. Sivanandan who told reporters about Neeta's death this evening said the police was investigating the case from all angles and no arrest had been made so far.