Monday, November 20, 2000,
Chandigarh, India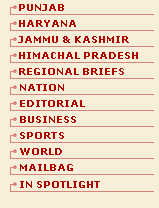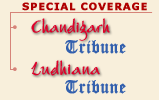 S P O T L I G H T
Ambedkar award for Tripura minister
AGARTALA, Nov 19 (PTI) — Tripura Education Minister Anil Sarkar has been selected for the Ambedkar National Award, 2000, for his contribution to the development of backward communities and literary works. The award would be presented to Mr Sarkar by Mr S.P. Sumanakshar, President of the Dalit Sahitya Academy, at the 16th national conference of the academy in New Delhi on December 5, an official press note said here on Sunday.
12,000 litres of furnace oil seized
KANCHEEPURAM (Tamil Nadu), Nov 19 (UNI) — In a pre-dawn swoop, the police raided an industrial unit and seized more than 12,000 litres of furnace oil and arrested six persons in this connection at Chettipedu, near here, on Sunday. The police said the oil was stored in a tanker buried in the ground. Six empty barrels were also recovered from the unit, located in the middle of a coconut grove. The oil was kept for adulteration of diesel and other fuels.