Tuesday, November 21, 2000,
Chandigarh, India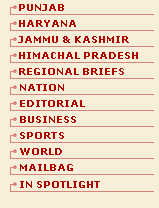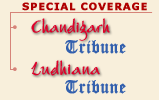 S P O T L I G H T
BJP leader booked in arson case
SAMASTIPUR (Bihar), Nov 20 (UNI) — A case had been registered against former BJP District Secretary Rajeev Mishra and 46 others in connection with the incident of arson in Patauri Police Station on November 14 in which an irate mob ransacked the residence of the station's officer-in-charge in protest against the kidnapping of a youth in the district.
SC ruling on zoos
NEW DELHI, Nov 20 (UNI) — The Supreme Court today prohibited creation of zoos in the country without permission of the Central Zoo Authority and Ministry of Environment and Forests. The court also directed all the states and union territories to file status reports about the zoos in the country and take steps as given in an affidavit by the Centre today.
15 executed in China
BEIJING, Nov 20 (AFP) — Fifteen common law criminals were executed in southern China after convictions in separate cases, the semi-official China News Service said today. The 15 were put to death on Friday in seven different areas in the island province of Hainan following public hearings, the agency said, noting the execution order was pronounced by the provincial intermediate court.