Thursday, November 23, 2000,
Chandigarh, India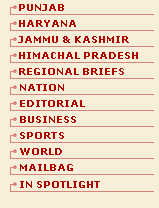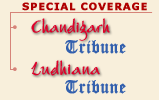 S P O T L I G H T
Namdhari elected Jharkhand Speaker
RANCHI, Nov 22 (PTI) — Mr Inder Singh Namdhari of the JD-U was unanimously elected Speaker of the new Jharkhand Assembly today. Parliamentary Affairs Minister Ranchadra Kesri proposed Mr Namdhari's name and it was seconded by Mr Baccha Singh.
BJP MLAs stage dharna
BANGALORE, Nov 22 (UNI) — The Bharatiya Janata Party members today staged a dharna in the Karnataka Legislative Council, demanding discussion on Dr Rajkumar abduction issue. Soon after the House met for the day, BJP leader B.S. Yediyurappa sought a debate on the abduction issue.
Copies of IMDT Act
NEW DELHI, Nov 22 (PTI) — Activists of the All-Assam Students Union (AASU) and Delhi-based Assamese Students Association today burnt copies of the Illegal Migrants (Determination) Tribunal (IMDT) Act near the Parliament House here, alleging that it was protecting illegal Bangladeshi migrants in the North-Eastern state.