Sunday, November 26, 2000,
Chandigarh, India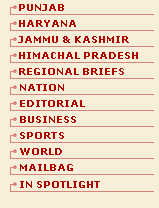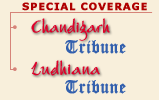 S P O T L I G H T
Israeli troops kill 4
JERUSALEM, Nov, 25 (DPA) — Israeli soldiers shot and killed four Palestinians, three in the West Bank and one in the Gaza Strip, in clashes on Saturday afternoon, Palestinians said. Soldiers shot dead two Palestinians in a gunbattle near the northern West Bank town of Jenin.
Adik re-elected
MUMBAI, Nov 25 (UNI) — Mr Govindrao Adik was today unanimously re-elected President of the Maharashtra Pradesh Congress Committee (MPCC). Pradesh returning officer P. J. Kurien, who announced his election, said all 45 nominations received by him till 1 p.m. deadline proposed Mr Adik as head of the party state unit. Mr Adik in his earlier tenure as MPCC President was handpicked and nominated to the post in March this year by Ms Sonia Gandhi, replacing Mr Prataprao Bhosale.
Narrow escape
CALCUTTA, Nov 25 (PTI) — All 219 passengers on board an IA flight from New Delhi, including Union Minister of State for Telecommunications Tapan Sikdar, had a close shave today when the rear wheel of the aircraft caught fire while landing at the NSC Bose International Airport here, IA sources said. Smoke engulfed the rear wheel of the Delhi-Calcutta Airbus 300 as it touched down at the airport at 9.05 a.m. said.
Students rescued
MOSCOW, Nov 25 (AP) — Twentyone students who were lost in a blizzard on a frozen tundra in the Russian Far East have been rescued, news reports said today. The group of students lost on November 16 when their two cross-country vehicles broke down.