IN PASSING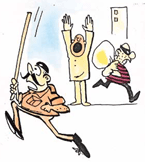 Sorry. I can't help you. I have to nab agitating Haryana employees first!
Father kidnapped, says MLA's son
DHARAMSALA, Nov 28 — The son of dissident MLA, Des Raj today expressed apprehension that his father may have been abducted and pressurised into issuing a statement in favour of the Chief Minister by the Dhumal camp.
Paswan launches Janshakti
NEW DELHI, Nov 28 — Launching his political outfit, Janshakti, Mr Ram Vilas Paswan today made an attempt to consolidate his traditional support base of Dalits and sought support of all sections, specially minorities, for his party.
Crucial SGPC meeting today
AMRITSAR, Nov 28 — A crucial meeting of SGPC members, to be presided over by Mr Parkash Singh Badal, SAD president, will be held in Gurdass Hall here tomorrow.



Boy passes same exam from 2 schools!
BATHINDA, Nov 28 — Can a student pass a board examination of the same class from two schools in the same year? It is possible, if the board happens to be the Punjab School Education Board (PSEB) and the student is a son of a senior official of the state Education Department.
Guns fall silent in Kashmir
November 28, 2000
4 jawans die in ambush
November 27, 2000
Dhumal faces revolt
November 26, 2000
Bibi fails to convince CBI
November 25, 2000
No going back on ceasefire
November 24, 2000
5 truckers shot near Banihal
November 23, 2000
SC rejects Delhi Govt's plea
November 22, 2000
RAF deployed in Delhi
November 21, 2000
No combat operations during Ramzan
November 20, 2000
Shelling forces fresh migration
November 19, 2000
CBI interrogates Bibi
November 18, 2000