Wednesday, November 29, 2000,
Chandigarh, India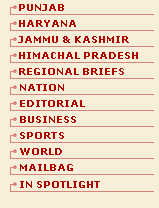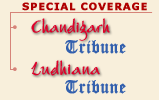 S P O T L I G H T
Laloo's bail expires, sent to jail
PATNA, Nov 28 (UNI) — Former Bihar Chief Minister and RJD chief Laloo Prasad Yadav, currently on provisional bail in connection with the disproportionate asset case, was sent to Beur Central Jail amid heavy security after his bail period expired and the matter could not be taken up in the Patna High Court today. CBI Special Judge S.K. Pathak sent Mr Yadav to jail after waiting for the decision of the high court till 4.30 p.m. Earlier, Mr Yadav's counsel had told the court that the RJD chief's plea before the high court was likely to be taken up during the day.
31 killed in quake
BAKU (MOSCOW), Nov 28 (DPA) — A total of 31 persons died in a earthquake that shook the Caucasus republic of Azerbaijan at the weekend, Interfax news agency reported today. Three of the victims were crushed by collapsing masonry while the rest succumbed to heart attacks during tremors registering seven on the Richter scale, health officials said.
Lankan navy kills fisherman
CHENNAI, Nov 28 (UNI) — An Indian fisherman was killed when the Sri Lankan navy personnel opened fire at a mechanised boat at Katchchathivu late last night. According to sources in the police headquarters at Rameswaram, the victim, Muniasamy (26) had ventured into the sea off Rameswaram coast along with three other fishermen early yesterday. He was hit by a bullet when he rushed to take cover in the rear portion of the boat after the Lankan navy started firing at them.
Woman on trial
STUTTGART, Nov 28 (DPA) — A 43-year-old German woman alleged to have belonged to the Red Army faction urban terrorist group active until the late 1990s went on trial today. She is accused of helping plan a bomb attack 12 years ago against top NATO military personnel in Spain. Andrea Klump went on trial in the Stammheim prison near Stuttgart which — particularly in the 1970s — symbolised the struggle of the German state against extreme Left-wing urban guerrillas.