Thursday, November 30, 2000,
Chandigarh, India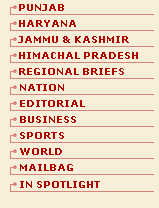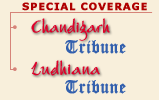 S P O T L I G H T
Miraculous escape for IA passengers
CHENNAI, Nov 29 (PTI) — Passengers of an Indian Airlines aircraft bound for Delhi had a miraculous escape when the pilot stopped the plane just before takeoff this morning after he noticed smoke coming out of its engine while taxiing on the runway. Airport sources said the 103 passengers of the flight, scheduled for departure at 6.40 a.m., were later accommodated on another aircraft, which left for the capital at 10 a.m. The sources said the snag-hit plane was later cleared for use on another flight.
Probe into CJI's age
NEW DELHI, Nov 29 (PTI) —The cbi today formally began a probe into a case of alleged forgery registered by the Delhi Police, concerning a document which showed the year of birth of Chief Justice of India A.S. Anand as 1934 as against government documents recording the same as 1936. On the transfer of the case from the police to the CBI as per a Supreme Court directive, the CBI re-registered the case under Sections 465 (forgery) and 469 (forging to harm reputation) today, agency sources said here.
Musharraf aide
ISLAMABAD, Nov 29 (PTI) — The Political Adviser to Pakistan military ruler General Pervez Musharraf has resigned from his post in protest against the killing of the secretary-general of the Shia Tehrik-e-Jafria. Syed Raziuddin Rizvi, who is acting secretary-general of the Tehrik-e-Jafria, charged the government with failure to protect the lives and property of the Shia community and said it had no right to remain in power.