12 hurt in 2 car blasts in Srinagar
SRINAGAR, Dec 1— Two powerful car bomb blasts near the boundary wall of the Jammu and Kashmir High Court complex rocked the city this afternoon injuring 12.
Seize peace offer, Advani asks Pak
NEW DELHI, Dec 1 — The Union Home Minister, Mr L.K. Advani, has said the ceasefire in Jammu and Kashmir during Ramzan is another chance for Pakistan to end its international isolation provided it ends cross-border terrorism in the valley.
Priyanka crowned Miss World
LONDON, Dec 1 — A cool and confident Miss India, Priyanka Chopra, charmed the world with her smile to become the fourth Indian in seven years to win the prestigious Miss World crown and keep the title home for the second consecutive year.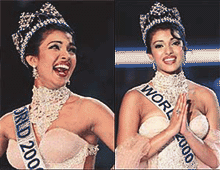 Priyanka's family thrilled
Priyanka Chopra is all smiles as she wears the Miss World 2000 crown at the Millennium Dome in London on Thursday night.— Reuters photos