Saturday, December 2, 2000,
Chandigarh, India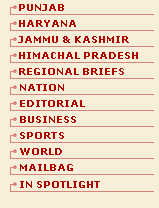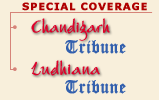 S P O T L I G H T
Woman dacoit held
KANPUR, Dec 1 (UNI) — Dreaded woman dacoit Seema Parihar, who had been spearheading the notorious Lalaram gang since the latter's death, was arrested after an encounter with the police in the nearby Auraiyya district yesterday. A police spokesman said here today that the dacoit, a trusted associate of late dacoit chieftain Lala Ram, was nabbed by the police near Jalaun Aquare on the Shergarh road while she was passing by with her sister-in-law.
Plane hijack bid foiled
NAIROBI, Dec 1 (AP) — A Congolese rebel has thwarted an attempt to hijack a transport aircraft in rebel-held eastern Congo, killing one hijacker and arresting another, a rebel spokesman said today. Two former Congolese soldiers on Monday threatened to explode a hand grenade aboard the Russian-built Antonov plane shortly after it took off from the eastern rebel stronghold of Goma.
4 die in gunbattle
DHAKA, Dec 1 (AP) — Four ruling party members were killed in a gunbattle with activists of main opposition Bangladesh Nationalist Party in Eastern Bangladesh, the police said today. The clash took place yesterday in Feni district, 125 km east of Dhaka, the police chief Monwar Hossain said over the phone.
50 die in mishap
LAGOS, Dec 1 (AFP) — At least 50 persons were killed when a car smashed into a bus on a road near the southern Nigerian city of Benin on Wednesday, news reports said today. The accident came less than one week after a bus slid off a road near Benin and plunged into a river.