Sunday, December 3, 2000,
Chandigarh, India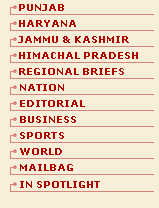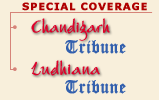 S P O T L I G H T
Gore suffers setbacks
WASHINGTON, Dec 2 (PTI) — Vice-President Al Gore suffered two setbacks when the Florida Supreme Court rejected his plea for "immediate" re-counting of thousands of disputed presidential ballots from Palm Beach and Miami-Dade counties and a prayer for revote in Palm Beach. The Florida Supreme Court's decision has given a blow to Mr Gore, trailing by 537 vote margin from Republican George W. Bush, who belived that the court decision held the key to his triumph in the US Presidency.
Chinese cultural fest inaugurated
CALCUTTA, Dec 2 (UNI) — A festival of contemporary Chinese films and an exhibition of Chinese art and life was inaugurated here on Friday to mark the beginning of the Chinese cultural week in the city. Organised by the Cine Central, Calcutta, the festival, the first of its kind in eastern India, would present a package of seven award-winning contemporary Chinese movies in the first week of December.