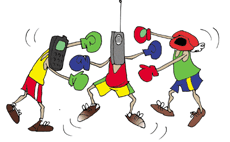 "Yes, we have come across such cases. We cannot stop them and neither are we encouraging them," says Pravesh Vasudeva of B'wise, a partner of HFCL. He says that they have already made in-roads in the southern-most sectors in Chandigarh, which are coming up fast and where the BSNL lines are practically non-existent. "Work has started on the Zirakpur node to cater to adjoining villages as well. Many people prefer our connection because it has the cost advantage of a landline and the reach-advantage of a cellular phone. Once wireless local loop (WLL) is introduced early next year, the scenario will change altogether and only a few would prefer a cellular phone then," he adds.
With WLL, wirelines will no longer be attached to the handset and it can be used as a cellular phone in a limited area. "BSNL will also bid for WLL," says Principal General Manager Telecom (PGMT) R.C. Vaish. He denies that HFCL has been able to make a dent in BSNL's subscriber base according to the present parameters. "My past experience in Bhopal and Indore indicates that BSNL's client base won't be eroded in future as well," he says, but adds that it might be too early to predict anything.
But doesn't lowering of the security deposit by BSNL mean that it is gearing up for the competition? "No. This was because we wanted to boost the waiting list," says the PGMT emphatically, and adds that once the subscriber base increases in the southern upcoming sectors of Chandigarh they may take a plunge there too.
Vaish says that the Telecom Regulatory Authority of India (TRAI) is currently seized of the problem of sorting out the fee issue as this is causing heartburn among cellular phone operators.
Naturally, cellular phone operators are seeing red. "We have paid Rs 350 crore while the basic phone operators have to just pay Rs 20 crore to operate in Punjab. In all probability this would change in near future and the TRAI would take more money from the basic telephone service providers and would offer more sops to the cellular phone operators," says Mandeep Bhatia, a marketing manager with Spice.
Bhatia, however, agrees that some subscribers will shift initially once WLL is introduced. "But then the playing field needs to be levelled," he adds.