Today, Creative Analysis and Concepts (CAD), a company floated by Bedi, has eight well-tested products in the market under "Vouch" as their trade name. True to the promise, several clients of Mr Bedi told Log in….Tribune that they were very happy with the software solutions Mr Bedi's company had provided. "Earlier we used to experiment with various pirated software to maintain our accounts. Now with customised software at a very reasonable cost, I am a very happy person," says the owner of a pharmaceutical firm who is one of the clients.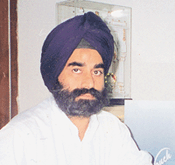 "Customised software provide solutions to your specific needs and are easy to operate, where as software packages from multinational companies are general and may or may not address your specific needs," says Bedi. He, however, feels that the biggest hurdle he faces is overcoming the client's mental block about multinational software products being superior. "As a solution provider to the industry, I can tell you that customised software work much better for the client and cost peanuts as compared to international brands," he says.
Small entrepreneurs like him have struggled hard to compete with MNCs, but what upsets all these persons is the complete apathy of the state government in helping them promote their products. "The entire emphasis of the government is to lure software giants into setting up new projects in the state, but no heed is ever paid to help us market our products which we have developed after a lot of hard work," says Mr Bedi.
Vouch has about eight products that can compete in the market with well-established brands like Tally, Ex, Wings, Facts, etc, but the biggest bottleneck the company finds is a resource crunch for advertising and marketing. The company claims that its products provide ERP solutions for trade and industry, needs relating to finance, manufacturing, exports, personnel, brickklins, schools, hospitals, cargo, etc.
Looking at the long list of clients, one has to agree that software development is no longer the bastion of multinationals. Some of the clients of CAD are Sportking, International Tractors, K.G. Forging, Vardhman, K. Jain Wears, Nivea Synthetics, United Wings, Chandigarh Club and Hind Motors.
Though the list of clients is growing, but Mr Bedi admits that the company headed by him and supported by four marketing and customer support staff has neither any marketing skill nor any funds for promoting the company products. "All the business we generate is through the goodwill of our clients and word-of-mouth sales," he says.
Despite temptations to make a fast buck, his company has stuck to the concept of developing a "product as a product for multi-platform operations, he maintains. The solution we provide is comprehensive and not piecemeal and this is our greatest strength," he says. Mr Bedi's products work on all operating systems including DOS, Windows 95, Windows 98, Windows NT and Novell NetWare and can work on a Pentium computer with 32 MB RAM and 50-MB free hard disk space.
"Initially I started programming with Clipper with DOS and "C", but recently we converted the software's engine to work on Xbase ++, a 32 bit compiler, making the software compatible with all systems, stand alone or servers." Now that he has almost given up on the government in terms of help for brand promotion, he is now looking for a strategic business partner who can invest some money for sales promotion.
A brand name, he says, is very important and adds that he finds it very easy to retain companies once they become his clients, but the real hardship is to convince someone into believing that a local product is as good if not better than a package from a multinational.
The financial package developed by his company takes care of all financial needs like sales order processing, delivery challans, invoicing based on sales order, return inward, has definable sales tax and excise rules, unlimited sales register, credit limit checks, etc. While the manufacturing packages have various components dealing with raw material consumption, multiple stock valuation methods, stock ledger integrated with trading, stock status, non-moving item report, etc.
Mr Bedi says that his Master's degree in commerce and job with the bank has come in very handy in visualising the needs of different industries. The exports and personnel packages could not have been so popular, but for his bank experience he admits says that during work at the bank he learnt what exactly an export house or personnel department of an organisation requires for smooth operations.
Vouch is based on integrated accounts, inventory and invoicing with add-on modules for manufacturing, exports, share accounting and personnel management, making it a complete ERP package. Each object in the software packages is configurable and allows the user to configure, add user defined procedures and update business rules, government rules and regulations, with complete integration with one another.
Another important feature of these products is that they offer on-line encryption of data, which means that the data is fully secure at all times. On-line means that any transaction is recorded only once and all related facts are automatically updated and distributed immediately to all the related components. The on-line encryption is generated automatically at the time of installation. Technically this makes this product superior to other similar products on the market. The data security is so fool proof that even if data is backed from one company and restored on another company's computer, it will not work, making each company's data spy proof.
Bedi says that he is not the only one facing problems with regard to marketing of his products, "every small entrepreneur in the region who is developing customised software solutions for the local industry faces a resource crunch in terms of marketing and advertising. All the revenue we generate goes right back into the business, not leaving much for promoting our product." He feels that several software developers are producing international quality software, but their efforts and talent is not rewarded due to lack of awareness for want of promotional support.
Despite all odds, the Punjabi instinct to excel coupled with the need to "do or die" has made Pritpal Singh Bedi and his likes to take up the challenge and prove that they are no less than the world acclaimed Bill Gates or Sabeer Bhatia. They continue to toil with the hope of making it big one day.