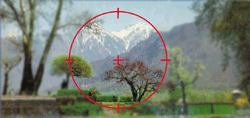 Beginning with sites specific to the turmoil was most disappointing. A site sounding reasonable enough — http://www.amnestykashmir.org/ — turned out to be nothing but another supporter for the Pakistani cause. Although it claims its mission is gaining respect for the "freedom struggle" of Kashmiri people, it highlights only alleged violations by Indian forces, not the excesses of militants. Even the "world opinion" picked by it is with a clear "intention." This site is mentioned not because it is anything special, but simply because it is representative of a typical "Kashmir site."
There are not many giving the Indian side of the story. One of the sites that does give an Indian version of the facts is http://www.armyinkashmir.org/index.html. It gives a great detail of all the actions of the Army in the valley, but even this would disappoint a strict "truth-seeker" because of its propagandist tenor. All this would have been good for India if Net surfers were illiterate, unfortunately they are not and are used to filtering out propagandist sites. A simple, yet smart ploy for them would be to put up some information that is not all that favourable, if only to buy limited credibility. After all, all newspapers publish letters against even their own editors' opinion. In the long run, truth alone can help.
Talking of newspapers, they are the only saving grace on the credibility front. One has to admit it, even Pakistani newspapers will have to be given credit for that, considering the side of the fence they are on. Newspaper sites may not provide you comprehensive compilations on the issue, but they can give you a relatively clear picture if you check them out regularly.
http://www.dawn.com and http://www.nation.com.pk/ are two such Pakistan news sites that can surprise you by their forthrightness and quality of writing. To quote, a Dawn editorial of November 21 on the ceasefire offer: ". . . a cause of great dismay is the negative response to the Indian ceasefire offer from some of the freedom-fighters (sic) involved in the Kashmir conflict. . . .This knee-jerk reaction from some mujahideen groups jeopardizes the prospects of a peaceful solution." Credible.
Last but not the least, a daily, detailed, and good account of the goings on in the valley can be had from www.tribiuneindia.com, the Web site of The Tribune that has Kashmir as one of its special-focus regions.
May sense prevail all around and Kashmir be paradise once more.