THE TRIBUNE MAGAZINES
On Mondays


On Sundays

On Saturdays

6 CRPF men killed in encounter
SRINAGAR, Dec 5 — In two simultaneous suicide attacks by militants on security forces camps, at least six CRPF personnel and three militants were killed and nine others injured in Kashmir since last evening.
Edit: All aboard peace wagon
No tripartite talks: India
NEW DELHI, Dec 5 — Ruling out tripartite talks on Jammu and Kashmir, India today made clear that Pakistan needed to initiate more concrete steps, for "an environment suitable for resumption of the composite dialogue".
IN PASSING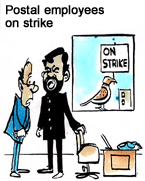 ... even the pigeons are on strike, Paswanji!

LS, RS adjourned over Ayodhya issue
NEW DELHI, Dec 5 — The Lok Sabha and the Rajya Sabha were adjourned for the day after an unyielding Opposition with the Congress in the vanguard demanded the resignation of Home Minister L.K. Advani and two other Union Ministers chargesheeted by the CBI in the Babri Masjid demolition case.
Advani must quit, says Congress
NEW DELHI, Dec 5 — Maintaining that the BJP had two set of rules for its ministers, the Congress today said it would agitate both inside and outside the Parliament till its demand for discussion under Rule 182 was accepted.
China ready to contact Dalai Lama
BEIJING, Dec 5 — China today reaffirmed its willingness to meet the Dalai Lama, a day after the exiled Tibetan spiritual leader said his brother had travelled to Beijing to reopen a dialogue stalled for two years.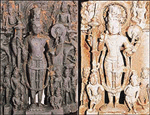 Two rare Vishnu statues excavated in Kaithal village
KURUKSHETRA, Dec 5 — The Kurukshetra Development Board (KDB) has once again unravelled the glorious past of this region. Its two archaeologists, Mr Rajesh Purohit, who is working as a Curator of the Shri Krishna Museum, and Mr R.S. Rana (lecturer guide) in the museum, has digged out rare statues in Rasina village situated on the Karnal-Kaithal border.
Mamata resigns, Vajpayee declines
December 5, 2000

4 more bodies extricated
December 4, 2000
40 die, 135 hurt in rail mishap near Rajpura
December 3, 2000
Man intrudes into Naval chief's house
December 2, 2000
Talwandi replaces Bibi
December 1, 2000
Decision left to Badal
November 30, 2000
Blast mars first day of ceasefire
November 29, 2000
Guns fall silent in Kashmir
November 28, 2000
4 jawans die in ambush
November 27, 2000
Dhumal faces revolt
November 26, 2000
Bibi fails to convince CBI
November 25, 2000
No going back on ceasefire
November 24, 2000
5 truckers shot near Banihal
November 23, 2000