Wednesday, December 6, 2000,
Chandigarh, India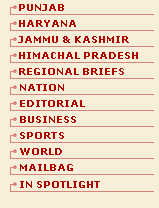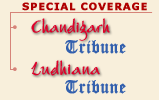 S P O T L I G H T
Hurriyat leaders meet Pak envoy
NEW DELHI, Dec 5 (PTI) — The Hurriyat leadership today met Pakistan High Commissioner Ashraf Jehangir Qazi here and discussed ceasefire in Jammu and Kashmir and other related political developments. Hurriyat chairman Abdul Gani Bhat and executive committee members Mirwaiz Umar Farooq and Yaseen Malik attended the Iftar party hosted by Mr Qazi, who returned recently from Pakistan.
Nod to Fiscal Responsibility Bill
NEW DELHI, Dec 5 (UNI) — In a far-reaching move which will have a major impact on economy, the Union Cabinet today approved the Fiscal Responsibility Enactment Bill, which seeks to put a cap on government borrowings. Emerging from a three-hour-long Cabinet meeting tonight, a senior Cabinet Minister said the Bill will authorise Parliament to put a cap on borrowings. The Fiscal Responsibility Enactment Bill, 2000, is likely to be introduced in the current session of Parliament, he said.
Warrants
NEW DELHI, Dec 5 (PTI) — Interpol has issued "red corner" warrants against five hijackers of the Indian Airlines plane to Kandahar, a year after the hijack drama in which three dreaded militants were exchanged for passengers of the ill-fated IC-814.
Tight security in Capital
From Our Correspondent
NEW DELHI, Dec 5 — The Delhi Police has made tight security arrangements in the Capital and deployed additional security in sensitive areas for tomorrow, the eighth anniversary of the Babri Masjid demolition in Ayodhya. A senior police officer said personnel of the Delhi Armed Police had been deployed in number across the Capital, particularly in communally sensitive areas like the walled city and certain areas of Trans-Yamuna and South Delhi.