Thursday, December 7, 2000,
Chandigarh, India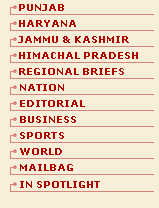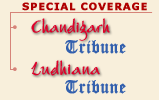 H I M A C H A L P R A D E S H
'Letter bomb' to haunt BJP
SHIMLA, Dec 6 — Though the crisis in the ruling BJP is over but the letter which shook the Dhumal government will continue to haunt the party for quite some time.
HP Cong stand 'vindicated'
NURPUR, Dec 6 — The Pradesh Congress Committee Chief, Mr Sat Mahajan, has said that the resignation of the Public Works Minister, Mr Mohinder Singh, from Prof Prem Kumar Dhumal's government vindicated the charges framed and submitted by the state Congress to the Governor a few months ago against government irregularities.
Fund shortage holds up bridge
KOT-HATWAR (Ghumarwin) — The construction of a bridge over Sanail khud, which will link Bilaspur district with Hamirpur at Jahoo village, has come to a standstill due to paucity of funds with the state government.
Dalits' conference violates code: JD
KANGRA, Dec 6 — The Himachal Pradesh Janata Dal (United) chief and former MLA, Capt. Partap Chaudhary, today sought the intervention of the State Election Commission to ban the conference of Dalits and other Backward Classes here tomorrow.
Striking students burn furniture
NAHAN, Dec 6 — Striking students of Kala Amb Engineering College set on fire furniture and some other articles in the college compound today at Kala Amb.
Mohinder vows to expose BJP
December 6, 2000
Staunch Muslims, Tibetans at heart
December 5, 2000
Chinese gear may be boon for skaters
December 4, 2000
WB project for women weavers
December 3, 2000
No-trust move by Cong likely in HP
December 2, 2000
People backing ceasefire: Kaul
December 1, 2000
I faced no pressure: Des Raj
November 30, 2000
HP okays rules for new townships
November 29, 2000
End ceasefire confusion: Shekhar
November 28, 2000
Farmers await new tubewells
November 27, 2000
Govt top violator of town Act: NGO
November 26, 2000