But the critics were still unsparing as they panned him for juggling about with "five set expressions" for all his roles. That he still managed to attract all the top banners, the hottest heroines and produce one hit after another, makes him more than a mere survivor.
"I donít think I need to prove myself any more," argues Shah Rukh. "For that matter, Amitabh Bachchan doesnít have to, nor Rajesh Khanna, nor Balraj Sahni... they all have their own place in the industry. So have Salman Khan, Aamir Khan and now, Hrithik Roshan."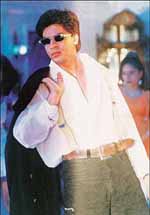 After a pause, he adds: "If you want to be successful, you need to be yourself. The achievement is not in removing Amitabh Bachchan or Shah Rukh Khan. The achievement is being Amitabh or Shah Rukh. All those who pitch one actor against another, miss this point entirely."
So how is it working with Hrithik in Karan Joharís Kabhi Khushi Kabhi Gum?
For a moment he appears stumped: "I donít know what to say because it might sound patronising or pompous. The point is, am I going to consider the film important or my co-star? It is so stupid, but ever since I came into films, some one or the other has been made into my rival!"
Shah Rukh finds himself now to be at the "crossroads" of his career when he isnít quite sure which direction he should take. As he says, for the first few years, he was hard pressed at getting a foothold in the industry like any other struggling actor.
The second phase came when he was recognised as a star, following the success of films like Darr and Raju Ban Gaya Gentleman. With superhits like Karan Arjun, Dilwale Dulhaniya Le Jayenge, Yes Boss, Pardes and Kuch Kuch Hota Hai, he consolidated his position further.
"Now I have reached the third or questioning phase," he says. "Should I continue to dance around trees or must I be experimenting with off-beat films like Hey Ram, Ashoka the Great and Devdas? After all, at the very beginning of my career, I had done an arty film for Mani Kaul, called The Idiot."
At the same time, he is clear about not being associated with films meant only for the festival circuit. For him, a film needs to have a certain "commercial sensibility" as well as a "standard of quality" that would distinguish it from the starrers of other actors.
"Donít ask me to play Mahatma Gandhi or Babasaheb Ambedkar," he explains. "It isnít as though Iím not open to playing a challenging role. I have done it earlier. But I would really like to go into unexplored areas. For instance. I wouldnít mind playing Idi Amin. But I cannot play a saint to save my life!
Shekhar launches Four Feathers
He was supposed to be working on Nelson Mandelaís autobiography, Long Walk to Freedom when the announcement of Air Pirates came. The action film about an aeroplane salvage expert was half-way through, when he launched Four Feathers with Heath Ledger and Wes Bentley at Morocco!
At 54, Shekhar Kapur is living up to his reputation as one of the most difficult filmmakers around. In Bombay, he made only two films, Masoom and Mr India in almost 20 years and left behind several incomplete projects before migrating to Hollywood for Bandit Queen and Elizabeth.
Now he is repeating himself there. He doesnít want to talk about Air Pirates and as for Long Walk to Freedom, discloses that Morgan Freeman has already been signed and that the search for a younger Mandela is on. "It is out of chaos that something good emerges," he rationalises.
On Four Feathers, he says that it is about a disgraced British army officer (Ledger) who goes under-cover in Sudan. Based on A.E.W. Masonís epic, the film is being made for a sixth time the version having special significance for people in India.
"Four Feathers is going to be one of the most anti-colonial films ever made," elaborates Kapur. "So often the colonising process has been about arrogance. Itís like sitting in Bombay and saying that there are tribals on Andhra Pradesh and that they make beautiful handicrafts. But we donít want to connect."
The filmmaker insists that in spite of his exposure overseas, his soul has remained in India. "Indians are such gifted story-tellers," he says. "I grew up with my mother telling me amazing stories. The western mindset I find, in film, is afraid of myth, afraid of melodrama. They are embarrassed about it."
So how does such a poetic Indian soul survive in the venal world Hollywood films? "As I said, itís all about chaos," he grins. "You just embrace the chaos and see what comes out of it. But then, I might add that the situation is not much different from the Hindi film industry!"