Sunday, December 10, 2000,
Chandigarh, India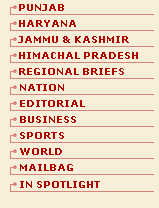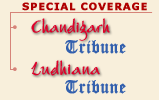 S P O T L I G H T

Peter Bleach may be released
CALCUTTA, Dec 9 (UNI) — Peter Bleach, one of the main accused in the Purulia arms-dropping case, may be absolved of charges and released as the Centre is in the process of scrutinising legalities following intense pressure put by the UK on India. The Minister of State for External Affairs, Mr Ajit Kumar Panja, told newsmen here today that the Law Ministry was studying a Supreme Court judgement and other legal aspects to find whether the British national could be let off.
Attacked
DINDIGUL (Tamil Nadu), Dec 9 (PTI) — A group of volunteers, suspected to belong to the Tamil Pattali Makkal Kazhagam, attacked a police station here this morning and ransacked the premises following an argument with a Sub-Inspector over the construction of a 'pandal' and hosting of a party flag on a piece of land, the police said. The pandal and the flag were later removed by the police.
Apology sought
HYDERABAD, Dec 9 (UNI) — The nine Left parties, including the CPI and the CPM, in Andhra Pradesh today demanded an apology from the Prime Minister, Atal Behari Vajpayee, for his remarks on the Ayodhya issue, saying the remarks were tantamount to inviting communal elements to foment trouble in the name of Ram temple at Ayodhya. By openly advocating construction of Ram temple at the disputed site, Mr Vajpayee's credentials to the RSS was proved and also exposed his true colours.
Package for Jharkhand
RANCHI, Dec 9 (UNI) — The Centre today announced a special package of Rs 183 crore for rural development in Jharkhand. The announcement was made by Union Rural Development Minister Venkaiah Naidu after a high-level meeting with the officials of the Jharkhand Government.
Blast kills 22
MOSCOW, Dec 9 (Reuters) — Twenty-two persons were killed on Saturday in a car bomb blast in Russia's rebel Chechnya province, Interfax news agency reported.
Minor earthquake
PUNE, Dec 9 (UNI) — An earthquake of low intensity was recorded at 8.18 a.m. this morning in the Koyna region, about 152 km from here. The earthquake measured 3.5 on the Richter scale, according to the metereological office here.