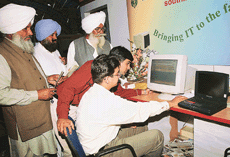 Yes, sites co-exist with farms. Ask Bangalore-based T. S. Prasad, Chief Administrative Officer of commodityindia.com. His portal that deals in oilseeds, spices, plantations, vegetable, cereals, fibres and pulses gets 1600 hits a month. "We are getting trade inquiries from the USA and Singapore," he said, and added that despite the language barrier the response at the fair was tremendous. Being on the Net proved useful to him and as many as four traders from Punjab offered to market his products in the region. Prasad was of the view that 40 per cent of the farmers in South India were Net-savvy.
Similarly, southindiaagri.org, a site that provides gateway to agriculture in South India, plans to extend the facility to the farmers in the North as well. "The site was launched two months ago and going by the response at the fair we plan to incorporate a section on agro-equipment being used in North India," said Vivek Sahni, executive at the counter, and remarked that farmers from Punjab were excited about floriculture. "Online auction of flowers will start soon on our site," he added.
Raju, a software engineer with ricemandi.com, a vortal that deals exclusively with paddy, said that paddy and rice auction on their site would commence by month-end. "It would be a paid site and those taking part in the auction will have to pay for participating," he said. The vortal has announced that advertisement on the site would be free initially as a promotional offer. Similarly, agriwatch.com provides auction facilities to the members and analyses the market for agrochemicals and cereals.
"I feel that every block development officer in Punjab would be equipped with a computer within next three years or so," a marketing manager from safalindia.com, a site dealing in frozen food, said. He, however, felt that farmers in the North needed more exposure to the Net and IT.
The poultry sector, too, is about to cackle on the Web. Portals like poultrybazar.com and necc.com are about to be hatched in a month. "The launch is to take place in Pune and our vortal would deal in eggs exclusively," said Nikesh Gupta of the roz-khao-aandey-fame National Egg Coordination Committee (NECC). Poultrybazar.com would, however, be comprehensive ó broilers, hatcheries, eggs, chicks, et al, and will have vets on call. At present, they provide services on telephone and are going to be on the Net in January first week.
Another interesting offshoot was the presence of a large number of map providers and topography evaluators at the fair. Sites like esri.com, kadkraft.com and mlinfomap.com could provide details on soil, agro-climatic conditions, crop patterns and topography if you paid for these.
However, a few officials at indiamarkets.com were not satisfied with more than a 1,000 queries a day related to fertilisers, agrochemicals and food products. "The B2B dealings are not encouraging," says G. Gopinath, a manager, and adds that engineering and electronics sites are preferred over agriculture-related sites. "But things may change in two years," he adds.
Rural brethren were wide-eyed at the advancements. "Now all we have to see is a robot-driven tractor," remarked Mandeep Johal, a farmer from Ludhiana, sarcastically.
Though the cursor cannot substitute the plough, yet the way the dot.com world is moving, the next agro fair could well be a different fare. A robotised tractor in Punjab may not be that far-fetched a dream.