Tuesday, December 12, 2000,
Chandigarh, India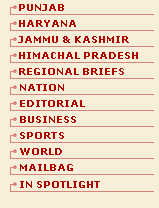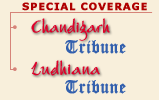 S P O T L I G H T

UK might ban LTTE: envoy
COLOMBO, Dec 11 (PTI) — Britain today said it would take into account the Sri Lankan Government's request to ban the LTTE from functioning from its soil while preparing a list of international terrorist organisations to be proscribed operating from the country. The British High Commissioner here, Ms Linda Duffield, said. Meanwhile, 13 LTTE men were killed in separate encounters and a bomb was recovered in eastern Sri Lanka, a UNI report said.
Postal strike
NEW DELHI, Dec 11 (PTI) — Leaders of the postal unions claimed today that the government had assured them of positive consideration of their demands during the talks, resumed today after five days, but said they would go ahead with their indefinite strike which disrupted services for the seventh day. Secretary General of the Bhartiya Postal Employees Federation V. S. Yadav told PTI today that Minister of State for Communication Tapan Sikdar had assured that the government would consider their demands positively.
Power staff strike today
NEW DELHI, Dec 11 (PTI) — Electricity employees and engineers in most states will go on a day's strike tomorrow in protest against the proposed privatisation of state electricity Bill, 2000. Mr Mukund Gore, National Secretary, Bhartiya Mazdoor Sangh, said.
Police opens fire
AHMEDABAD, Dec 11 (PTI) — The police fired 15 rounds and burst 182 teargas shells to disperse people belonging to two different communities who indulged in stone-pelting and arson tonight in the predominantly workers-dominated locality of Nagoriwad here. The mob set afire a number of cabins and kiosks in the area before escaping.