Wednesday, December 13, 2000,
Chandigarh, India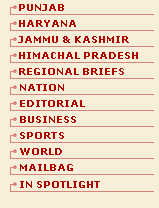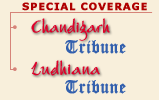 B U S I N E S S


Borrowings by states unsustainable: FM
NEW DELHI, Dec 12 — The Centre has warned that a whopping 63 per cent of the borrowings, now being used by states for current consumption, could lead to a debt trap.

Courier firms make hay
NEW DELHI, Dec 12 — Private courier companies located in the metros and semi-urban cities are striking gold even as the postal services remained crippled for the eighth day following a nationwide indefinite strike launched by the workers.

Oil, gas production may rise: ONGC
MANDI, Dec 12 — ONGC Chairman-cum-Managing Director B.C. Bora has underlined the need of vigorous efforts for discovering new oil deposits in the country and abroad on equity basic to cope with the increasing demand of petroleum products.

Rs 20,000 cr wheat in godowns
MUMBAI, Dec 12 — Mumbai High Court has directed Food Corporation of India (FCI) to file its say on a writ petition alleging that the "faulty" policy of the Union Government in fixing sale price of wheat has resulted in piling up of unsold stock worth Rs 20,000 crore.

McDonald's sales hit by mad cow
OAK BROOK: McDonald's Corp., the world's largest fast-food chain, said on Monday its sees 2000 profits growing at the low end of forecasts as the beef crisis in Europe scares customers away from hamburgers.
New Electricity Bill on the anvil: PM
December 12, 2000
Plus 8 pc growth over-optimistic: experts
December 11, 2000
Punjab mulls over luxury tax on imported goods
December 10, 2000
Shadow of crime stunts industry
December 9, 2000
Poor to World Bank: why ruin our health?
December 8, 2000
Lobby out to grab Haryana mines
December 7, 2000
Badal tells businessmen farming realities
December 6, 2000
Haryana to set up food park at Rai
December 5, 2000
Punjab may still miss Plan target
December 4, 2000
Budget to target 8 pc growth: PM
December 3, 2000