Friday, December 15, 2000,
Chandigarh, India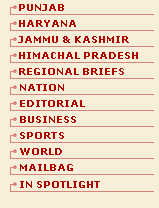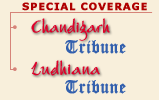 S P O T L I G H T
Banks' strike on December 21
NEW DELHI, Dec 14 (PTI) — Bank unions today announced a one day nation-wide strike on December 21 to protest against the introduction of the banking companies (amendment) Bill in Parliament that seeks to bring down government's stake in public sector banks up to 33 per cent. The decision was taken by the United Forum of Bank Unions (UFBU), an umbrella organisation of nine unions, at its meeting in Calcutta today, Mr Y.K. Gupta. Delhi convener of the UFBU said.
3 convicted
MUMBAI, Dec 14 (UNI) — Three members of the Chhota Shakeel gang were today convicted under the recently-enacted Maharashtra Control for Organised Crime Act for a near fatal attack on film producer Romesh Sharma. Additional Sessions Judge A.P. Bangale convicted Salim Mahmood Salim, Mahammad Iqbal Farroque Sheikh and Salim Aziz Sheikh in the case.