Saturday, December 16, 2000,
Chandigarh, India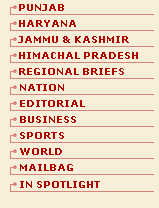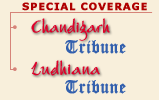 S P O T L I G H T
Medha Patkar sues Indian Express
NEW DELHI, Dec 15 (PTI) — Narmada Bachao Andolan (NBA) activist Medha Patkar today filed a criminal defamation case against The Indian Express in a city court for having carried an advertisement allegedly defamatory to her and the Narmada movement. Ms Patkar in her complaint named Mr V.K. Saxena, President of the National Council for Civil Liberties, which had given the advertisement, The Indian Express Editor-in-Chief Shekhar Gupta and its publisher G.R. Saxena as accused.
BJP suspends 8 leaders
RAIPUR, Dec 15 (PTI) — The BJP today suspended its senior leader from Chhattisgarh, Mr Brij Mohan Aggarwal, from its primary membership along with seven others for their alleged involvement in acts of violence following the election of the BJP state legislature party leader here on December 13. BJP President Bangaru Laxman suspended Mr Aggarwal and seven others for their "acts of gross indiscipline" after the election of Mr Nand Kumar Sai as the leader.
8 charred to death
DHANBAD, Dec 15 (UNI) — At least eight persons were charred to death and as many sustained severe burn injuries, when a bus caught fire in Jharkhand yesterday. The police said here today that the bus carrying 40 passengers was en route to Calcutta from Nawada. The injured were undergoing treatment at a local hospital, the police added.