Sunday, December 17, 2000,
Chandigarh, India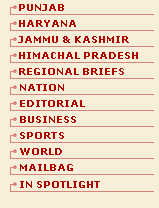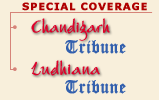 S P O T L I G H T
Troops kill 26 LTTE rebels
COLOMBO, Dec 16 (PTI) — Sri Lankan troops wrested control of a key route from LTTE guerrillas in northern Jaffna peninsula today after an intense battle that killed at least 12 soldiers and 26 rebels, the Defence Ministry said.
15 militants surrender
GUWAHATI, Dec 16 (PTI) — Fifteen Bengali Tiger Force (BTF) militants today surrendered before the local Army commander at the Tamulpur military camp in Assam's Nalbari district, official sources said here.
TV reporter attacked
BANGALORE, Dec 16 (UNI) — A Zee TV reporter and his colleague were allegedly attacked by some unidentified persons who tried to abduct them in the city late last night. The police said the scribe, Vijay Grover, who received minor injuries was treated at a hospital.
Priest assaulted
PORT BLAIR, Dec 16 (PTI) — A Roman Catholic priest was injured after he was assaulted by two unidentified assailants at a church at Premanagar in the Andamans, a senior police official said.
PM's holiday
THIRUVANANTHAPURAM, Dec 16 (PTI) — Prime Minister Atal Behari Vajpayee will be spending his New Year's eve at the famous Kumarakom beach resort in Kerala, official sources said today. Mr Vajpayee will reach at the resort in Kottayam district on December 26 for week-long sojourn.
Hawala case
NEW DELHI, Dec 16 (PTI) — In a FERA case relating to the Jain hawala scandal, a city court today sentenced a hawala operator to 16 months' imprisonment with a fine of Rs 25,000.