Monday, December 18, 2000,
Chandigarh, India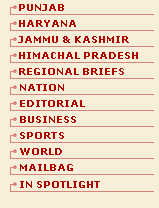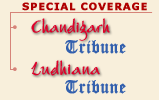 S P O T L I G H T

Rota virus spreads, three kids dead
THANE, Dec 17 (UNI) — A one-year-old child succumbed to an infection caused by the rota virus in Jawhar taluka of this district today, taking the toll to three, while 289 children were taken ill. According to official sources and locals, all 289 children, were in the age group of up to two years. Of the 289, 103 were being treated at the Jawhar rural hospital. One-year-old girl child was being shifted from the rural hospital at Jawhar to the district civil hospital at Thane last night when she did on the way.

21 shot in Algeria
ALGIERS, Dec 17 (DPA) — Twentyone persons — 19 technical students and two civil guards — have been murdered in the Algerian town of Medea, it was revealed today. Witnesses said a group of gunmen opened fire on the youths at a boarding school in the town yesterday. Another six students were wounded in the massacre, which is being blamed on Islamic militants.

ULFA leader hurt in shootout
AGARTALA, Dec 17 (UNI) — The United Liberation Front of Asom commander-in-chief Paresh Barua was shot at and his bodyguard killed in a gunbattle between two rival factions of the outfit in the Chittagong Hill Tracts of south-east Bangladesh. Defence sources told mediapersons here today that the ULFA's self-styled chief was shifted to Dhaka under heavy security cover for treatment.

"Terrorists' list"
ISLAMABAD, Dec 17 (PTI) — The USA's list of 'terrorists' has named Riaz Basra, convicted of killing the Director General of the Iranian Cultural Centre in Lahore in December 1990, as the "would be assassin" of the exiled deposed Pakistani Prime Minister Nawaz Sharif, The Dawn reported. Basra's name figures on a US list of "terrorists that live in or have lived in, have trained in, are headquartered in or financed from Afghanistan," the daily said.

Godown gutted
CALCUTTA, Dec 17 (PTI) — A major blaze gutted a plastics godown stocked with chemicals and ravaged portions of an adjoining residential complex in the central commercial hub of the metropolis today. With the paramilitary rapid action force called in to assist in the fire-fighting operations. There was, however, no casualty in the fire. West Bengal Fire Services Minister Pratim Chatterjee, supervising the operations, said.

Curfew relaxed
MORADABAD, Dec 17 (PTI) — The curfew was today relaxed in three of the four police stations where it was imposed after tension gripped the city on Friday, official sources said. The curfew bound areas remained incident-free on Sunday. The security forces were patrolling the areas, they said.