Wednesday, December 20, 2000,
Chandigarh, India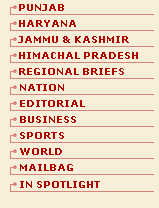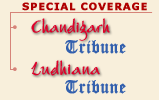 H I M A C H A L P R A D E S H
Govt plans to raise Rs 500 cr as loans
SHIMLA, Dec 19 — The fund-starved Himachal Pradesh Government is planning to raise loans totalling over Rs 500 crore from the open market to bridge the resource gap which is expected to be of the order of Rs 1200 crore this year.
Cong designs to put BJP on mat
SHIMLA, Dec 19 — The Congress is all set to put the BJP government of Prof P.K. Dhumal on the mat in the winter session of the Assembly which begins here on December 21.
Cong gets majority in Una ZP poll
UNA, Dec 19 — With all results to 17 zila parishad seats in Una district declared here by the District Returning Officer by noon today, the actual picture is clear. Out of 17 zila parishad seats 10 candidates backed by the Congress have won, one seat has gone to the HVC while two clear seats have gone in the BJP kitty.
All set for MC poll
PARWANOO, Dec 19 — According to Mr Sanjay Sharma, Assistant Commissioner-cum-Assistant Returning Officer, Parwanoo, all arrangements for the MC election have been completed and all the polling parties have already reported at their respective booths along with polling material.
Nagar panchayat poll today
JAWALAMUKHI, Dec 19 — Campaigning for the Jawalamukhi nagar panchayat elections entered its final stage today. The elections will be held tomorrow.
No trifurcation of HPSEB
December 19, 2000
Stokes to launch anti-BJP drive
December 18, 2000
Govt justifies power surcharge
December 17, 2000
19 arrested for booth capture
December 16, 2000
Woman candidate's son murdered
December 15, 2000
Minor scuffle during poll
December 14, 2000
Security beefed up on HP-J&K border
December 13, 2000
Tightrope walk for Dhumal Govt
December 12, 2000
Imports hit Kangra tea sale
December 11, 2000
HP signs pact for 39 power projects
December 10, 2000