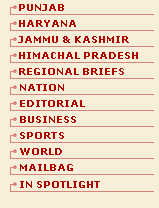 Wednesday, December 20, 2000, Chandigarh, India
Updated at 3 am (IST)
NDA suffers first defeat
Vajpayee asserts authority
NEW DELHI, Dec 19 — Prime Minister Atal Behari Vajpayee lost an embarrassing censure motion in the Rajya Sabha today but displayed his authority by asserting that it was his prerogative to choose his Council of Ministers and would not be dictated by anyone on this issue.

Uma deposes before Liberhan
NEW DELHI, Dec 19 — Ms Uma Bharati, one of the three Union Ministers, charge-sheeted in the Babri Masjid demolition case, told the Liberhan Commission today that she tried to prevent the demolition of the disputed structure on December 6,1992 but was pushed away by the 'kar sevaks'.
CAST YOUR VOTE
Do you expect Bush to tilt towards India more than Clinton did?