Friday, December 22, 2000,
Chandigarh, India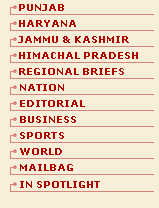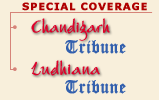 S P O T L I G H T
London court rejects Nadeem's extradition
LONDON, Dec 21 (PTI) — The London High Court today upheld an appeal against extradition to India filed by Bollywood music director Nadeem accused in the 1997 murder of Gulshan Kumar in Mumbai. Lord Justice Christopher Rose and Mr Justice George Newman ruled that the application for the extradition of Nadeem was "not made in good faith and in the interests of justice". Lawyers for the Indian Government indicated that they would appeal to the House of Lords.
Pak signs treaty
ISLAMABAD, Dec 21 (PTI) — Pakistan has signed a landmark treaty in Palermo (Italy), which was designed to combat transnational organised crime. "The treaty, signed on December 18, provides a legal framework for international cooperation to combat transnational crime. The treaty contains provisions relating to joint investigation by states", a note issued by the Foreign Office spokesman has said. The treaty has been titled "The Convention Against Transnational Organised Crime."
Sanction opposed
BEIJING, Dec 21 (PTI) — China today decried all forms of terrorism but opposed fresh UN sanctions against Afghanistan's Taliban saying it would not produce the desired results. "Sanctions will not help in the resolution of problems, " Foreign Ministry spokeswoman Zhang Qiyue said.