Saturday, December 23, 2000,
Chandigarh, India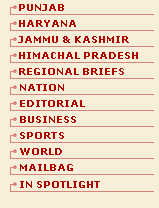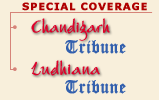 S P O T L I G H T
Four die of suffocation
JAIPUR, Dec 22 (PTI) — Four members of a family died of suffocation in a slum here, while another was being treated at a hospital, police said here today. The bodies of a 40-year-old man, his two sons and a daughter were found in a small room at JP Colony kachchi basti this morning, the police said. His wife was found unconscious and is being treated at a hospital, they added. The family suffocated apparently due to fumes from a fire pot kept burning to keep the closed room warm.
NDFB guns down 11
GUWAHATI, Dec 22 (PTI) — The National Democratic Front of Bodoland (NDFB) gunned down 11 woollen garment sellers, 10 Bhutanese and a Nepali, and injured another in separate incidents in Assam's Barpeta and Darrang districts yesterday, official sources said here today.