THE TRIBUNE MAGAZINES
On Mondays


On Sundays

On Saturdays

Bhagat acquitted in riots case
NEW DELHI, Dec 23 — The former Union Minister, Mr H.K.L. Bhagat, was today acquitted of murder charges in the 1984 anti-Sikh riots case.
3 militants shot in encounter
SSP hurt, Army surrounds village
SRINAGAR, Dec 23 — A special police officer and a revenue official were among nine persons killed in Jammu and Kashmir during the past 24 hours. Also, three militants were killed in an encounter in Kathua.
---

Noor Jehan dead
KARACHI, Dec 23 — Pakistani legendary singer and actress Noor Jehan, known as the country's melody queen, died here today at the age of 75 after a protracted illness, her family said.
IN PASSING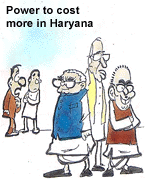 Very strange! So many 'power generators' like Bhajan Lal, Bansi Lal and Chautala and still power is costing more!

Obituary
Noor fades away from Jehan
Noor Jehan, famous Pakistani singer, who was been suffering from cancer, is no more. Her melodious voice will continue to haunt music lovers.
---
Gujral for new era of cooperation
Chandigarh, Dec 23 — A former Prime Minister, Mr Inder Kumar Gujral, said today that the time had come for India and Pakistan to resolve their differences in a spirit of mutual amity and brotherhood in view of the changing situation in the world.
Chokila new Foreign Secretary
NEW DELHI, Dec 23 — India's Ambassador to Ireland, Ms Chokila Iyer, who has been appointed the new Foreign Secretary, has the distinction of being the first woman to reach the highest job in the Ministry of External Affairs.
Talwandi, Vedanti hold meeting
Akal Takht chief refutes statement
AMRITSAR, Dec 23 — In a significant development, Mr Jagdev Singh Talwandi, President, SGPC, and Giani Joginder Singh Vedanti, Jathedar, Akal Takht, held a closed door meeting for half an hour here today.
Ultras storm Army camp in Red Fort
December 23, 2000
Hurriyat team leaves for Pak on Jan 15
December 22, 2000
Ceasefire in J&K extended
December 21, 2000
NDA suffers first defeat
December 20, 2000
TDP threatens to withdraw support
December 19, 2000
Involve Pak in talks: APHC
December 18, 2000
2 jawans die in suicide attack
December 17, 2000
BJP gets tough with allies
December 16, 2000
Cong censure motion defeated
December 15, 2000
Bush emerges winner
December 14, 2000