Sunday, December 24, 2000,
Chandigarh, India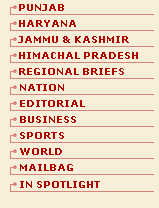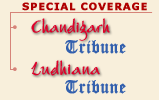 S P O T L I G H T
Church torched
WARANGAL, Dec 23 (PTI) — A hut being used as a church was set ablaze by unidentified miscreants in a village in Warangal district of Andhra Pradesh, the police said today. The miscreants sprinkled kerosene on the makeshift church in Aravapalli village and set it ablaze last Friday, Deputy Superintendent of Police K. Venkat Rao said, adding that as no one was present at the time of the incident it came to light only today. He said tension prevailed in the village and police was making efforts to trace the miscreants.
Pondy ministry
PONDICHERRY, Dec 23 (PTI) — The fate of the 10-month-old Shanmugham ministry here hung in balance today with three MLAs of the breakaway TMC withdrawing support. Earlier in the day, former TMC leader and sacked minister P. Kannan withdrew his support to the ministry, taking the government to the brink of a crisis.
Lanka ceasefire
COLOMBO, Dec 23 (DPA) — The Sri Lankan Government has rejected a unilateral ceasefire offered by Tamil rebels which was to come into effect tomorrow, the government said in an official statement released here today.