Thursday, December 28, 2000,
Chandigarh, India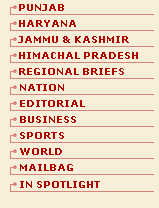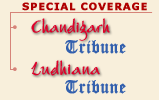 P U N J A B
Kalam promises help to science city
CHANDIGARH, Dec 27 — For Prof APJ Abdul Kalam, Principal Scientific Adviser to the Union Government, Punjab is high on the priority list for the success of the Vision 2020 programme.
Criteria for ministers' quota amended
AMRITSAR, Dec 27 — In an apparent move to woo the voters belonging to various religions and communities, the Cabinet-in-Council has decided to amend criteria for the allocation of funds by ministers from their discretionary quota.
Punjab slashes Internet rates
CHANDIGARH, Dec 27 — The Punjab Telecom Circle today decided to slash internet rates besides promising to provide quality service to net browsers as four high capacity and 14 medium capacity internet nodes will become functional by the first week of the New Year.
SAD proposals to panel on Sikh identity
AMRITSAR, Dec 27 — Even as the Chief Minister, Mr Parkash Singh Badal, has not come out openly with a statement against the claims of the Rashtriya Sikh Sangat, in offshoot of the RSS, that the Sikhs are descendants of Luv and Kush", the stand of the SAD headed by Mr Badal is clear that the Sikhs are a distinct identity.
Punjab Gaurav Samman for Dosanjh
DOSANJH KALAN (Jalandhar), Dec 27 — It was a greatful "pind da puttar", Mr Ujjal Dosanjh, British Columbia Premier, upon whom the Punjab Gaurav Samman was conferred by the Chief Minister, Mr Parkash Singh Badal, at his (Mr Dosanjh) native village.
SDMs to sanction pension
BATHINDA, Dec 27 — The Punjab Government has given powers to Subdivisional Magistrates to sanction old-age pension after following proper procedure.
HC tells Punjab to compensate land owners
December 27, 2000
Govt fails to deliver, Oppn in disarray
December 26, 2000
All set for launch of biotechnology
December 25, 2000
Special status for Uttaranchal?
December 24, 2000
Don't reverse Bibi's decisions: Badal
December 23, 2000
2 of Tiwari's children defend parents
December 22, 2000
Badal, Dosanjh may sign pacts
December 21, 2000
Moonak SDM submits report
December 20, 2000
Cong to launch stir against corruption
December 19, 2000
Search on for new Chief Secretaries
December 18, 2000