Our metropolises have virtually become slums, semi-slums, and super-slums. The case of Delhi as highlighted by the author is strikingly illustrative. If the population of the squatters and of those living on the private properties which have been declared as slums are reckoned together, the percentage of units unfit for human habitation comes to be about 70 per cent of the total dwellings. Calcutta is not much different. Mumbai is reeling under the tyranny of land mafia and slum dadas.
Apart from the thousands of unorganised (and perhaps even unauthorised) units in the old city alone, the nationís capital boasts of several industrial estates built to enlarge employment opportunities. The upshot is for all to see. More jobs have, no doubt, been created, but equally certainly more slums have come up to house the workers. The distant promise of work and the more distant hope of a degree of comfortable living have combined to pull hundreds of thousands of people from rural areas. Today Delhi is home to more than one crore people ó from a mere 17 lakh in 1951. This six-fold jump in population had drastically cut into the availability of basic civic amenities, and the resultant hardship to the residents has assumed alarming proportions.
K.M. VASHISHT
Mansa
II
The article brings out the reasons responsible for the deteriorating condition of our metropolitan cities and large towns. Traffic hazard, air pollution, encroachment on public land and slum dwelling are problems that can be solved only if there is a strong political will to solve them. Who is guilty of ruining the capital city of Delhi? The health of the citizens is more important than any other issue. City-dwellers are also responsible for polluting these cities.
DES RAJ PATHANIA
Hoshiarpur
Ruchikaís tragedy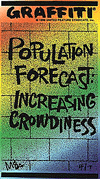 This refers to "Ruchikaís tragedy: let this not happen again" by Shubhadeep Choudhury and Aruti Nayar (November 25). Madhu Prakash and Anand Prakash, have won the respect of the people for taking up cudgels on behalf of Ruchika. Their guts, courage and mental toughness speak volumes for their character. Normally nobody bothers to fight on behalf of someone else and that too against the awesome might of the police. Thatís why the husband and wife deserve praise for waging a relentless and grim struggle. Their bold stop is, indeed, admirable.
In our country, the biggest democracy in the world, it is a common practice for people in responsible positions to commit various types of crimes and then try to cover up their tracks. The police is meant to defend and protect the honour and dignity of the common people. If police officers themselves break the law then having a force is meaningless. In our country the strong dominate the weak because of their power, position, rank and political connections and defy the law with impunity.
TARSEM S. BUMRAH
Batala