THE TRIBUNE MAGAZINES
On Mondays

On Sundays
On Saturdays
File reply by Jan 5, SC tells Bibi
NEW DELHI, Jan 2 . The Supreme Court today gave time till January 5 to former SGPC President Bibi Jagir Kaur for filing reply to CBI.s special leave petition challenging the grant of bail to her by the Punjab and Haryana High Court in her daughter.s murder case.

Bhat to select APHC team
SRINAGAR, Jan 2 . The Hurriyat Conference executive body has authorised Chairman Abdul Ghani Bhat to nominate a delegation of Hurriyat leaders to visit Pakistan on January 15 for holding talks with the militant leaders and others there. The decision was taken at a meeting of the seven-member executive committee of the Hurriyat Conference at its headquarters today.
IN PASSING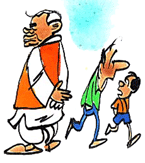 What! Power failure? Does it mean that we are going to have a new government?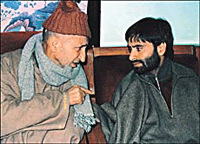 Abdul Ghani Bhat (left), Chairman of the All-Party Hurriyat Conference, talks with Mohammad Yaseen Malik, Chairman of the Jammu and Kashmir Liberation Front, meeting in Srinagar on Tuesday. . Reuters photo

Debate over Qureshi.s custody
NEW DELHI, Jan 2 . Legal experts today battled at the Delhi High Court over the custody of Hashim Qureshi, a founding member of the Jammu and Kashmir Liberation Front (JKLF), accused of hijacking an Indian Airlines plane in 1971, while the court extended his stay against taking him to Srinagar till January 4.



Musings from Kumarakom . II
.Radical development reforms in offing.
By Atal Behari Vajpayee
IN my article yesterday, I had expressed some thoughts on the Kashmir question and the Ram Janmabhoomi-Babri Masjid dispute, the two problems that we have inherited from the past. Today I wish to share my vision of how we can leave a better legacy for our future generations.
.We shall be bold, innovative on Kashmir.
January 2, 2001
Qureshi.s transfer stayed
January 1, 2001
Dawood-ISI nexus in Nepal
December 31, 2000
Hijacker back after 30 yrs
December 30, 2000
Protect Indians, Nepal told
December 29, 2000
Red Fort attackers. accomplice shot
December 28, 2000
Ultra behind Red Fort attack shot
December 27, 2000
Major breakthrough in Red Fort shootout
December 26, 2000
No headway in Red Fort case
December 25, 2000
It was a five-minute work of 2 militants
December 24, 2000
Ultras storm Army camp in Red Fort
December 23, 2000
Hurriyat team leaves for Pak on Jan 15
December 22, 2000