THE TRIBUNE MAGAZINES
On Mondays

On Sundays
On Saturdays
APHC announcement limits govt options
JAMMU, Jan 12 — "Galwanas kar gur hawala" (hand over the horse to the horse thief)" seems to be the strategy the executive committee of the APHC has adopted while selecting members for the proposed visit to Pakistan.
---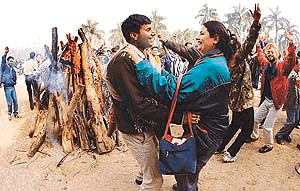 With burning logs of wood spreading warmth on a chilly misty day, these students dance to the beat of the music to celebrate Lohri at the Panjab University Students Centre in Chandigarh on Friday. — Tribune photo by Karam Singh

---
IN PASSING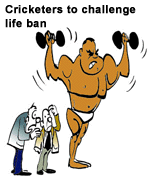 He used to be a cricketer. Now he is preparing to protest against the life ban!

Jathedars may cross swords
'Dasam Granth' issue
AMRITSAR, Jan 12 — For the first time, the Jathedar of Akal Takht and the Jathedar of Takht Sachkhand Shri Hazoor Sahib, Abchalnagar (Nanded), may cross swords over the issue of "Dasam Granth".
Cold claims 2 lives in Bathinda
CHANDIGARH, Jan 12 — The battering cold wave sweeping the region took two lives in Bathinda in Punjab during the past 24 hours and its fury in Himachal Pradesh and Jammu and Kashmir intensified further following fresh snowfall on the higher altitudes.
India, China discuss border issue
NEW DELHI, Jan 12 — In a firm show of commitment, India and China today expressed their resolve to address unresolved issues, including the long-standing boundary problem with "patience" and agreed to begin the security dialogue "very soon", possibly next month.
To Kumbh Nagar for salvation
KUMBH NAGAR, Jan 12 — For common pilgrims or ''kalpwasis'', the arduous journey to temporarily settling down in the sprawling Maha Kumbh Mela area here is a penance in itself.
APHC selects 5-man team to Pak
January 12, 2001
CM dissolves SAD front bodies
January 11, 2001
50 hurt as blasts rock Kashmir
January 10, 2001
Fog hits air, rail traffic
January 9, 2001
Patch-up efforts by George fail
January 8, 2001
Centre gives in to APHC demand
January 7, 2001
18 massacred in Bengal
January 6, 2001
Nitish resigns
January 5, 2001
States overloading grid
January 4, 2001
North plunges into darkness
January 3, 2001
'We shall be bold, innovative on Kashmir'
January 2, 2001