Tuesday, January 30, 2001,
Chandigarh, India



B U S I N E S S
Loss: 25,000 cr; quake tax ruled out
NEW DELHI, Jan 29 — The massive earthquake and the losses worth several thousands of crore of rupees in Gujarat would have a bearing on the coming Budget.
'Coops can help farmers compete globally'
CHANDIGARH, Jan 29 — The National Federation of State Cooperative Banks has suggested that in view of the changing world scene the cooperatives should support and sustain agriculture as a "multi-functional" occupation using liberalisation of agricultural marketing as an opportunity for internationalisation.
Stress drives staff to the brink
LONDON: Workplace stress has become so bad that thousands of workers are presenting themselves for treatment with symptoms similar to those of psychiatric outpatients, according to a major new investigation.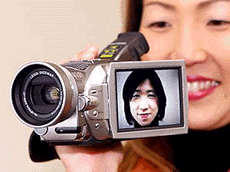 Matsushita unveils the new 3-CCD digital video camcorder Digicam NV-MX2000 in Tokyo on Monday. — AFP photo

Limited mobility, unlimited scope
CHANDIGARH, Jan 29 — Mobile phone calls at Rs 1.20 for three minutes. The government has finally allowed the basic telecom service providers to offer "limited mobility" services.
British team coming to Chandigarh
CHANDIGARH, Jan 29 — A British High Commission team led by Deputy High Commissioner Tom Macan will visit Chandigarh from January 30 to February 1 to promote new trade links between Indian and British companies.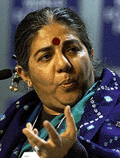 Director of the Research Foundation for Science, Technology and Ecology in India Vandana Shiva gestures during a session about "addressing the backlash against globalisation" at the World Economic Forum (WEF) in Davos on Sunday. — Reuters photo

'Risky site' for Punjab atomic plant
January 29, 2001
HFCL net profit skyrockets 382 pc
January 28, 2001
Recast North-led globalisation: FM
January 26, 2001
Zee profit may reflect game show damage
January 25, 2001
Global Tele Q3 net profit vaults 111 pc
January 24, 2001
Post offices to offer e-mail services in villages
January 23, 2001
What hinders investment in real estate
January 22, 2001
Old media turns its back on the Internet
January 21, 2001
AirTel, Essar too slash cell phone rates
January 20, 2001
Chandigarh-born girl heads US IT firm
January 19, 2001