THE TRIBUNE MAGAZINES
On Mondays

On Sundays
On Saturdays
Sharon to be new Israeli PM
TEL AVIV, Feb 7 — Right-wing Likud Party

leader Ariel Sharon today scored a landslide victory over Prime Minister Ehud Barak to become the 11th Premier of Israel. Sharon, who trounced Barak by around 24 points in a stunning turnaround, called for establishment of a national unity government to restore security to Israel and peace in West Asia.
Edit: Israel votes out peace
IN his campaign for re-election caretaker Prime Minister Ehud Barak used to tell the voters that they had to choose between war and peace. On Wednesday the Israel voters gave their verdict, which was overwhelmingly against Mr Barak and his West Asian peace policy.


3 ministers accused of abduction
DHARAMSALA, Feb 7 — The Kangra Zila Parishad election may cast its shadow on the winter sojourn of the Chief Minister as the Congress today threatened to launch an agitation, alleging abduction and harassment of two other Backward Classes women members by some ministers to prevent them from casting their votes.
To our readers
In Science Tribune today
IN PASSING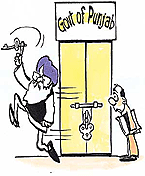 If you need me, please come to Majitha!

President accepts PMK ministers' resignations
NEW DELHI, Feb 7 — The resignations of the two PMK ministers—Mr N.T.Shanmugham and Mr E.Ponnuswamy—were accepted by the President here today.

Youngest MCSE female pro
CHANDIGARH, Feb 7 — At 12, she became the world's youngest female Microsoft Certified Systems Engineer and Internet expert. And today she is one of the successful freelancers in macromedia flash, creating fully flash interactive websites, introductions and high-impact interactive presentations.




78-yr anti-liquor tradition
DHAPALI (Bathinda), Feb 7 — Unknown to the outside world, power of the people has prevailed in this village for the past 78 years in keeping the liquor shop away. This village has not any liquor shop since 1922. Every time the government dangled the bottle, the people led by women successfully battled to get the shop shifted away from the village.
Cremation of youth passes off peacefully
February 7, 2001
1 killed in police firing
February 6, 2001
Rescue missions called off
February 5, 2001
Consensus on disaster management panel
February 4, 2001
Quake after-effects jolt Gujarat Govt
February 3, 2001
Operation clean-up begins
February 2, 2001
Relief distribution main problem
February 1, 2001
Fernandes puts quake toll at 1 lakh
January 31, 2001
PM announces Rs 500-cr relief
January 30, 2001
Fresh tremors as toll crosses 20,000
January 29, 2001