Monday, February 12, 2001, Chandigarh, India
Updated at 3 am (IST)

Negotiations only solution: George
Asks Sikhs to stay in Kashmir
SRINAGAR, Feb 11 — Giving a call to Sikhs to stay put in Kashmir, Defence Minister George Fernandes here today offered to extend all possible help to the community in the valley, saying that negotiations were the only solution to all problems.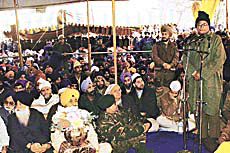 Defence Minister George Fernandes addresses Sikhs at a bhog in Mehjoor Nagar on Sunday. Senior Hurriyat leaders Abdul Ghani Lone, Mohd Yaseen Malik and separatist leader Shabir Shah also attended it. — Photo by Amin War

CAST YOUR VOTE
Should the government give incentives to control the population?