Sikhs not to shift from valley
Lone, Shah meet senior leaders
SRINAGAR, Feb 12 — Following hectic efforts of senior Sikh leaders and Kashmiri separatists, the Sikhs have decided against migration from the valley in the aftermath of the recent killing of six members of the community here. The decision to this effect was announced by senior Sikh leader and former Akal Takht Chief, Bhai Ranjit Singh.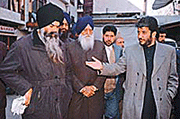 J&K page: Sikhs caught in cleft situation


Separatist leader Shabir Shah with Bhai Ranjit Singh and former SGPC chief Gurcharan Singh Tohra, after their meeting in Srinagar on Monday. — Photo by Amin War
Hurriyat unfolds Pak visit agenda
SRINAGAR, Feb 12 — Enunciating for the first time the agenda of its proposed Pakistan visit, the Hurriyat Conference today said it was aimed at turning the unilateral ceasefire in Jammu and Kashmir into a two-way traffic and make the peace process "result-oriented''.
Sonia reconstitutes CWC
NEW DELHI, Feb 12 — In a delicate political balancing act, Congress President Sonia Gandhi today reconstituted party's highest decision and policy-making body-Working Committee — retaining the old guard and bringing in new faces.