THE TRIBUNE MAGAZINES
On Mondays

On Sundays
On Saturdays
Police books 58 builders
AHMEDABAD, Feb 13 — As controlled explosions in dilapidated quake-hit buildings continue, the police has initiated proceedings against 58 builders, slapping cases under Sections 304 and 120-B of the IPC.

Sikh women volunteers make rotis at a makeshift community kitchen in Bhuj on Tuesday. Bhuj was the worst-hit town after the January 26 earthquake that killed some 30,000 persons in Gujarat. — Reuters photo
To our readers
In Health Tribune today
IN PASSING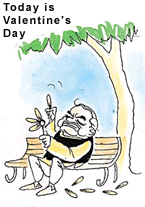 Party 1 loves me..
Party 2 loves me not..
Party 3 loves me..
Party 4 loves me not!
Statute panel's term extended
NEW DELHI, Feb 13 — The Union Cabinet today decided to extend the term of the National Commission to Review the Working of the Constitution up to October 31.
MAJITHA BYELECTION
SHSAD men support Cong
MAJITHA, Feb 13 — Many leaders and workers of the Sarb Hind Shiromani Akali Dal have come in support of Congress candidate Shavinder Singh Kathunangal, making the crucial byelection even more interesting.
Cartels make PSEB pay more
PATIALA, Feb 13 — Far from economising and giving tender orders to the lowest bidders, the Punjab State Electricity Board has allowed the formation of cartels for placing of orders resulting in losses to the board which is paying more for transformers sold at lesser rates to neighbouring boards.
3 storeys is the limit in HP
DHARAMSALA, Feb 13 — The devastating Gujarat earthquake proved to be an eye opener for the Himachal Government and the state Cabinet today decided not to allow construction of buildings beyond three storeys and drew up an extensive disaster management plan as a number of areas of the state fall in the zone-5 seismic prone region.
Order on Ayodhya case quashed
February 13, 2001
Negotiations only solution: George
February 12, 2001
Ultras massacre 15 in Rajouri
February 11, 2001
Farooq to induct Sikh in Cabinet
February 10, 2001
India conveys its concern to China
February 9, 2001
Curfew relaxed in Jammu
February 8, 2001
Cremation of youth passes off peacefully
February 7, 2001
1 killed in police firing
February 6, 2001
Rescue missions called off
February 5, 2001
Consensus on disaster management panel
February 4, 2001
Quake after-effects jolt Gujarat Govt
February 3, 2001
Operation clean-up begins
February 2, 2001