Thursday, February 15, 2001,
Chandigarh, India


C H A N D I G A R H
Love birds take over city for a day
CHANDIGARH, Feb 14 — Youngsters of the city celebrated Valentine's Day with usual hoopla, like they have been doing in the past few years. The UT police was spread all over the city to contain hooligans. However, this did not deter the city youth from exchanging flowers or rushing to Panchkula for dating.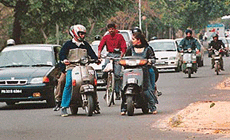 Chasing love: Cupid can strike anywhere, even in the middle of the road, especially on Valentine's Day in Chandigarh. This picture was taken on the geri route by Pradeep Tewari on Wednesday.

Sector 44 resident murdered in broad daylight
CHANDIGARH, Feb 14 — A 55-year-old man was reportedly murdered at his Sector 44 residence in broad-daylight here today. Inspite of the victim's cries for help, the neighbours who heard them chose to stay away.
Share market 'can't create jobs'
CHANDIGARH, Feb 14 — "It is very difficult to change the face of the state," says former Prime Minister and Chairman of the Board of Governors of the Institute for Studies in Industrial Development, Mr Chandra Shekhar, maintaining that from problems, it had changed to the emotions of the people with caste, religion and region becoming important issues.
Revised budget passed with Rs 146.58 crore outlay
February 14, 2001
UT may allow IT units in residential houses
February 13, 2001
Mahesh wins Servo marathon, Rina, mother of 4-year-old, surprises all in half marathon
February 12, 2001
One more held for violence in PU
February 11, 2001
Kar sevaks lay cattle track
February 10, 2001
Uninsured govt buildings put taxpayers at risk
February 9, 2001
CHB changes flats transaction rules
February 8, 2001
New UGC courses aim at self-employment
February 7, 2001
Power connections to be costlier from Feb 22
February 6, 2001
Sant Waryam Singh flags off 16 relief trucks for Gujarat
February 5, 2001