Friday, February 16, 2001, Chandigarh, India
Updated at 3 am (IST)

4 killed in firing
Villagers protest ultra's killing
Srinagar, February 15
At least four persons were killed and over 24 injured, four of them seriously, when the security forces opened fire on a group of demonstrators at Haigam, 40 km north of here, blocking traffic on the Srinagar-Baramula highway this afternoon.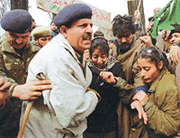 Edit page: Repeated extension of ceasefire


The police arrests Ms Mehbooba Mufti, daughter of former Home Minister Mufti Mohammad Syed and Vice-President of the Jammu and Kashmir People's Democratic Party during a peace march in Srinagar on Thursday. — Photo by Amin War

CAST YOUR VOTE
Should the government give incentives to control the population?