Tuesday, February 20, 2001,
Chandigarh, India



S P O R T S
Australian batsmen have a field day
Nagpur, February 19
A superb 115 by Justin Langer and 68 by Ricky Ponting powered Australia to 365 runs for nine wickets as their three-day match against India A ended in a draw here today.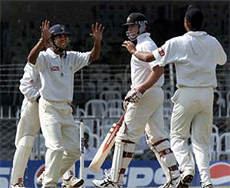 India A cricketers Harbhajan Singh (R) and Hemang Badani (L) celebrate the dismissal of Australian batsman Mathew Hayden (C) on the final day of the three-day tour match between the two teams in Nagpur on Monday. — Reuters photo

Hockey rule changes in offing
New Delhi, February 19
The International Hockey Federation is contemplating more radical alterations to make the game more attractive and viewer-friendly.
Sugiyama upsets Jana Kandarr
Oklahoma City, February 19
Sixth-seeded Ai Sugiyama of Japan was upset by Jana Kandarr of Germany 1-6 7-5 7-5 on the opening day of the 170,000 IGA US Indoor Championship.
Dimi stuns 6th seed
Bangalore, February 19
India's unseeded Ashel Dimi shocked sixth seeded compatriot Yamini Thukaiandini 6-4, 6-7 (5-7), 6-4 to move into the second round of the ITF women's satellite championship here today.
Herculean task ahead for JCT
Chandigarh, February 19
Punjab's premier soccer outfit JCT Phagwara will require a Herculean effort to pull themselves out of the abyss as the high-profile National Football League enters the eighth round tomorrow.
Upset wins for Mazur, Borgula
Chandigarh, February 19
The day one of the Indian Oil-Servo ATP Challenger tennis began with two seeds, third seed Oleg Ogorodov of Uzbekistan and Vasillis Mazarakis of Greece falling to unseeded players Dmitri Mazur of Uzbekistan and Boris Borgula of Slovakia, respectively, at the CLTA Courts, Sector 10, here today.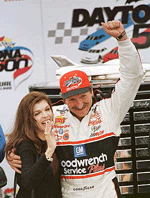 Nascar motor racing legend Dale Earnhardt died of injuries resulting from a last-lap accident at Sunday's Daytona 500. The 49-year-old Earnhardt, a seven-time Nascar Winston Cup champion, and his wife Teresa are shown in victory lane as they celebrated his first ever win at Daytona in this February 15, 1998 file photo. — Reuters photo

India 'A' take 77-run lead
February 19 , 2001
Sanghvi, Nehra restrict Aussies
February 18 , 2001
Australians open campaign against India 'A' today
February 17 , 2001
Badani helps India Seniors win
February 16 , 2001
Dravid, Sriram lead India A to
six-wicket victory
February 15 , 2001
Thrilling 31-run victory for India Seniors
February 14 , 2001
Kanitkar helps India 'A' win
February 13, 2001
Paes' power guides India past China
February 12, 2001
Paes, Bhupathi help India to 2-1 lead
February 11, 2001