IN PASSING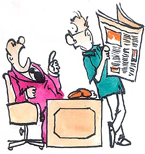 When I asked you about the latest news, I meant Kashmir and not Sourav-Nagma affair !

Counting for Majitha seat today
Amritsar, February 22
Counting of votes for the Majitha assembly constituency, which went to the polls on February 19, would commence here tomorrow. According to returning officer Gurpreet Kaur Sapra, counting would start at 8 a.m. and results would be out by noon.
Chandrika arrives sans ceremony
New Delhi, February 22
In deference to her wishes, India did not accord a ceremonial welcome to Sri Lankan President Chandrika Kumaratunga, who arrived here today.
Empty wards, leaking roofs in TB hospital
Amritsar, February 22
Broken beds, leaking roofs and empty wards, sum up the pathetic condition of TB hospital, a premier institute of northern India. The strength of staff here is four times than the occupancy of beds. A corner of the hospital is being used as a dairy by a staff member, while the kitchen, store and other rooms could be seen locked.
J&K truce extended
February 22, 2001
India lodges protest
February 21, 2001
Pak stalling peace process: President
February 20, 2001
GOC regrets firing, orders probe
February 19, 2001
Ceasefire likely to be extended
February 18, 2001
Fresh protests rock valley
February 17, 2001
4 killed in firing
February 16, 2001
Punjab draws up VRS
February 15, 2001
Harbans Singh joins Farooq Cabinet
February 14, 2001
Order on Ayodhya case quashed
February 13, 2001
Negotiations only solution: George
February 12, 2001